Custom Photo Etched Trading Pins

Photo Etched Trading Pins are an economical alternative to OUR Cloisonne Soft Enamel Trading Pins. When you are looking for a great looking high quality trading pin at an EVEN MORE AFFORDABLE PRICE THAN OUR SOFT ENAMEL PINS, Photo Etched is the Trading Pin style for you!
Custom Photo Etched Trading Pin Pricing - No Mold Fees Whatsoever!
Call 888.257.7181 or Email us for Sizes and Quantities Not Listed Below

Size

100

200

300

500

750

1000

2000

3000

1.25"

$2.45

$2.04

$1.39

$0.99

$0.90

$0.84

$0.80

$0.76

1.50"

$2.62

$2.19

$1.62

$1.19

$1.10

$0.90

$0.86

$0.82

1.75"

$2.95

$2.47

$1.89

$1.46

$1.35

$1.17

$1.10

$1.01

2"

$3.10

$2.61

$2.12

$1.64

$1.53

$1.37

$1.31

$1.23

2.25"

$3.35

$2.95

$2.55

$2.03

$1.84

$1.75

$1.59

$1.48

2.5"

$3.85

$3.39

$3.05

$2.53

$2.29

$2.15

$1.97

$1.83
You Receive the Following with Every Trading Pin Order:
FREE Artwork & Design
FREE Unlimited Artwork Revisions
FREE FedEx Air Shipping
NO MOLD FEE on any quantity order
Includes up to 7 FREE Colors
10 Day Production
100% Satisfaction Guarantee
100% Price Match Guarantee
Order Your Trading Pins!
Ordering Trading Pins Made Easy!
Ordering from us starts by either calling (888.257.7181) or emailing us with your trading pin design request. Once we have your request, you will receive one-on-one service from a member of our graphic design staff. We will create an original design for you and your team that will have the highest degree of "trading power", desirability and quality of manufacture. Turnaround for designs is generally 8 hours or less outside of the peak period that runs from May thru July of every year. If you are in a pinch for time, ask us about our "Expedited Design and Order Service" we may just be able to help you when no-one else can!
Please view the informative pages of our website, then either call, email or fax us today! We are waiting to hear from you!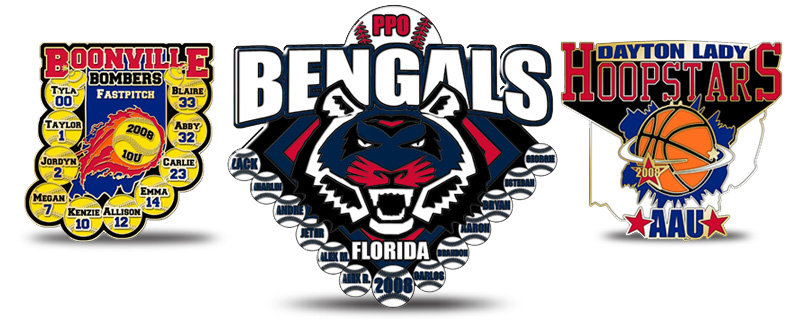 Custom Trading Pin Options

Dangler Trading Pins: A second custom trading pin. Requires a second mold, design and manufacture. Typical attachment is via a "ring" but danglers can be attached to small jewelry chains. Danglers are used to designate special interest in your tournament, like the year of the tournament, a ball, a glove, your state, your flag, the American flag, and many other possibilities. Most common danglers designate the year of the tournament. Example: teams can use the same pin design year after year and we can update the dangler each year to represent the current tournament.
Add to your trading pin - from $0.69

Slider Trading Pins: A second custom trading pin. Sliders require a "slot" to be cut into the die of the main pin, then the slider pin, which is a trading pin itself, will fit into the slot of the main pin. Sliders are eye appealing and give a sense of action to the pin. Common sliders include; players running a baseline, swinging bats and moving balls.
Add to your trading pin - from $0.69

Spinner Trading Pins: Is a second custom trading pin. Typically spinners come in the shape of balls, but can be in any shape of your imagination. They add extreme value, trading power and dimension to your custom trading pin in that they attach on top of the pin face and can be spun with the finger above the face of the main pin.
Add to your trading pin - from $0.69

Blinker Trading Pins: Are battery powered colored lights that blink when turned on. Blinkers add a high degree of "action" to your custom trading pin. They are typically used as eyes of a mascot on the pin, but can be used for many different and exciting options of your custom trading pin design.
Add to your trading pin - (1) - $0.89 or (2) for $1.09
Glitter Trading Pins: Glitter enamel is added to the colors of your custom trading pin design. Glitter colors are very popular and add great dimension and sparkle. Glitter is an inexpensive way to make an extremely sought after, highly visible and expensive looking custom trading pin.
Add to your trading pin for only $0.12

Bobble Head Trading Pins: Are a second pin which is attached with a strong spring to the main pin. They "bobble" when the pin is moved creating an eye catching effect that is different from any other type of custom trading pin. Bobble heads are typically the head of a uniformed.
Add to your trading pin for only $0.99